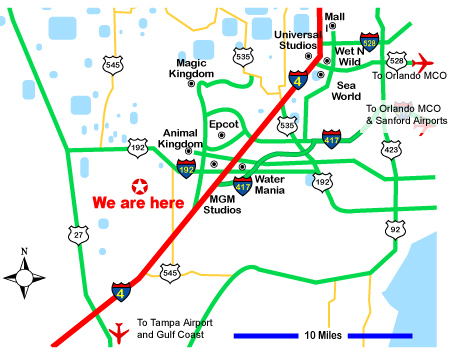 Click here to see our location on www.multimap.com
Only 4 miles from Disney, beautifully situated within the quiet and well established community of Lindfields,"AmazingDays" is a stunning air conditioned, executive 4 bedroom, 3.5 bathroom villa, sleeping up to 8 people, which caters for every need.No expense has been spared to make this house a wonderful holiday experience.

Lindfields is an exclusive development and one of the most popular sub-divisions (estates) in the Disney area. It is a very popular choice for the discerning traveller, and is very highly regarded.

The sub division is well maintained and has been very well planned,with road names like Kensington, Picadilly and Wellington a certain British distinction abounds throughout the development, all of which blends together quite nicely with the Florida theme.

Lindfields is a very safe and tranquil sub division (estate) due to this reputation and it's ideal location, It is recognised as one of the most sought after Villa rental communities in the Orlando/Kissimmee area. Lindfields is completely developed and continues to mature and thrive.

Lindfields is located off highway192 and is ideally situated to visit all the Orlando attractions.Close to Disney but just far enough away to keep it's quiet, warm and enchanting welcome.